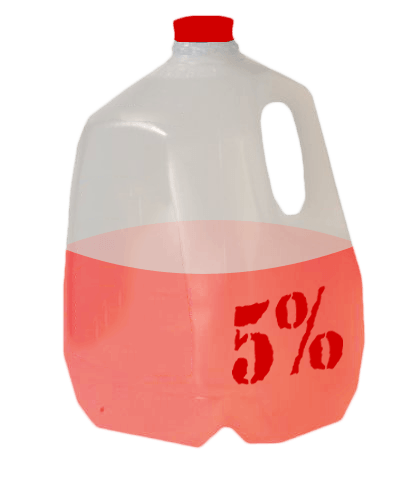 This product is currently not available.
Please inform me as soon as the product is available again.
€13.23 *
€15.29 *
(13.47% Saved)
Prices incl. VAT plus shipping costs
Express orders between 1pm-4pm will be shipped the same day.
Delivery time 1-3 Tage Workdays
Do you have any questions concerning this product?
Order number:

Xz-RP-HGJ-Zx.2
Become a premium customer
Im Musclelab Premium Kunden Programm sparst Du dauerhaft.
mehr Infos hier
Rich Piana 5% Half Gallon Jug 1/2 Gallone Krug mit rot "5%" Logo. Stellt eine Hardcore...
more
Product information "Rich Piana 5% - Half Gallon Jug"
Rich Piana 5% Half Gallon Jug
1/2 Gallone Krug mit rot "5%" Logo.
Stellt eine Hardcore Bodybuilding Lifestyle dar.
Durch das neue EU-Recht (Health Claim Verordnung) ist es leider nicht mehr möglich, Sie genau und ausführlich über Produkte und deren Inhaltsstoffen zu informieren. Unser Team steht, soweit rechtlich erlaubt, für Sie telefonisch oder über E-Mail Kontakt jederzeit zur Verfügung.
Read, write and discuss reviews...
more
Customer evaluation for "Rich Piana 5% - Half Gallon Jug"
Write an evaluation
Evaluations will be activated after verification.
Rich Piana 5% Nutrition – Die Nahrungsergänzungsmittelmarke des ehemaligen YouTube Bodybuilders...
more
Supplier "Rich Piana 5%"
Rich Piana 5% Nutrition – Die Nahrungsergänzungsmittelmarke des ehemaligen YouTube Bodybuilders Rich Piana
Wer war Rich Piana?
Rich Piana war ein weltweit bekannter YouTube Bodybuilder, der vor allem mit seinen gigantischen Oberarmen und seiner Aufklärung für anabole Steroide große Bekanntheit erlangte. Er begann bereits im Alter von 11 Jahren mit dem Gewichtheben und gewann bis zum Alter von 18 mehrere Titel, darunter den NPC Mr. Teen California 1989. In diesem Alter nahm er bereits Anabolika und sammelte seine ersten Erfahrungen als Profi-Bodybuilder. 2014 offenbarte er in einem YouTube Video, dass er seit 25 Jahren zu anabolen Steroiden greift.
Wer ist 5% Nutrition als Hersteller?
Rich Piana und 5% Nutrition, zwei Namen, die in der Welt der Sporternährung zum Synonym für knallharte Leistung geworden sind. In den Worten von Rich bedeutet der Name: "Die 5% stehen für diejenigen von uns, die bereit sind, alles zu geben, um ihre Ziele zu erreichen."
Rich hat während seiner Karriere als Bodybuilder und später als Motivationsfigur unzählige Millionen Menschen inspiriert. Die Anziehungskraft seiner Botschaft war einfach und doch kraftvoll: Er war bereit, alles zu geben, um seine Ziele zu erreichen. Auf dem Weg dorthin ließ er seine Fans aus der ersten Reihe an seinem Alltag teilhaben und baute so eine riesige YouTube- und Instagram-Fangemeinde auf.
Die Anhänger von Rich gewöhnten sich bald an seine häufigen Motivationsbotschaften, Trainingstechniken, Ernährung und Essenszubereitung sowie an seine zahlreichen sozialen Kommentare. Der am besten erkennbare Aspekt seines Lebensstils, die "5%'ER-Mentalität", wurde zur Grundlage seines Unternehmens 5% Nutrition.
Seit der Gründung im Jahr 2014 hat 5% Nutrition die Reichweite der Marke mit Sportkleidung und Nahrungsergänzungsmitteln auf der ganzen Welt erweitert. Durch engagierte Mitarbeiter wird täglich daran gearbeitet, die Zufriedenheit der Kunden mit dem Unternehmen zu gewährleisten.
Die Produktion von qualitativ hochwertigen Nahrungsergänzungsmittel ist das Ziel und hier ist nicht nur die Wirkung wichtig, sondern auch die Produktionsverfahren. 5% Nutrition arbeitet nur mit Herstellern zusammen, die nach strengen cGMP-Richtlinien (Certified for Good Manufacturing Practices) arbeiten. Die Einhaltung der GMP in Verbindung mit den eigenen, strengen Standards für die Qualitätssicherung hilft dabei, unseren Endverbrauchern hochwertige Produkte zu liefern.
×
Ratenrechner
zzgl. Versandkosten
Monatsraten
Ratenaufschlag insgesamt
Monatsrate
Effektiver Jahreszins %