No results were found for the filter!
EFX Kre-Alkalyn Kapseln
EFX Kre-Alkalyn - Creatine Monohydrate in better Bioavailability What exactly is EFX Kre-Alkalyn? EFX Kre-Alkalyn by All American EFX is a unique creatine product that has been known for many years. The manufacturer EFX advertises this...
Content
120 Stück
(€0.22 * / 1 Stück)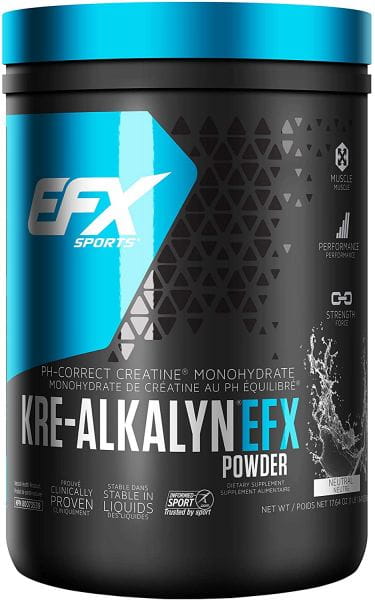 EFX Kre-Alkalyn Powder
Das EFX Kre Alkalyn 220g Pulver – gepuffertes Kreatin Monohydrat mit besserer Verträglichkeit Was ist das EFX Kre Alkalyn? Kre-Alkalyn gilt als eines der bekanntesten Kreatinformen nach dem handelsüblichen Monohydrat, doch was steckt...
Products from All American EFX

Brian Andrews ist der Präsident der All American EFX, einer der am schnellsten wachsenden Sport Nutrition Firmen in der Fitness-Branche. Sie sind für ihre mehrfach patentierten und preisgekrönten Kreatin-Produkte, zum Beispiel Kre-Alkalyn EFX, bekannt. Brian ist der Autor von "Creatin: Industry Insider Secrets Revealed". Er ist ein gefragter Experte im Bereich des Kre Alkelyns und schrieb ein Buch namens "Die Gefahren der Kreatine". Weiterhin ist er ein Gast in zahlreichen Radio-Shows. Brian beschäftigt sich mit Bodybuilding seit über 22 Jahren.
All American EFX – Vermarktung eines weltbekannten und meistverkauften Kre Alkelyns
Im Jahre 1985 fing alles mit einem jungen Bodybuilder Namens Jeff Golini an. Er gründete eine Firma für Nahrungsergänzungsmittel. Jeff Golinin schaffte es viele Produkte zu verkaufen. Die Konzepte der sogenannten "All American Pharmaceutical" kamen gut bei den Leuten an. Alle Supplemente wurden selbst hergestellt und so entstand eine neue Produktlinie im Bereich der Supplemente für das Bodybuilding. Anfang 2003 kam der junge Brian Andrews in die Firma. Die Nahrungsergänzungsmittel von "All American Nutrition" wurden in den USA sehr bekannt. Hier ist beispielsweise die patentierte Creatin Technoloige zu nennen, die in "Kre-Alkalyn EFX" drin ist.
All American Nutrition – Die Entstehung.
Brian Andrews und Jeff Golini verstanden sich sehr gut und so bekam Jeff Golini ein unglaubliches Angebot. Seine Eigenmarke "Kre-Alkalyn EFX" sollte von nun an zu "All American Nutrition" gehören. Jeff Golini nahm das Angebot sofort an. Es entstand "All American EFX". All American EFX ist seitdem für hochwertige Supplemente bekannt. Kre-Alkalyn EFX ist in der Bodybuilding-Szene äußerst beliebt und am meisten verkauft worden.