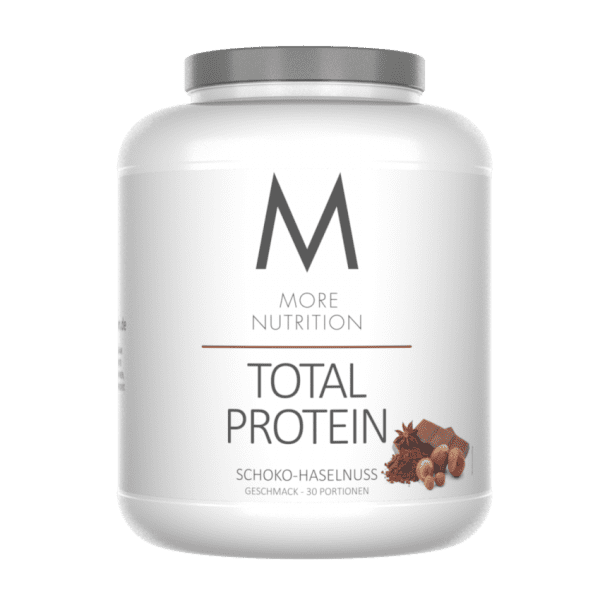 This product is currently not available.
Please inform me as soon as the product is available again.
Content:
1500 Gramm (€2.39 * / 100 Gramm)
Prices incl. VAT plus shipping costs
Express orders between 1pm-4pm will be shipped the same day.
Delivery time 1-3 Tage Workdays
Do you have any questions concerning this product?
Become a premium customer
Im Musclelab Premium Kunden Programm sparst Du dauerhaft.
mehr Infos hier
More Nutrition – Was ist dran an den More Supplements? Was ist das More Nutrition Total...
more
Product information "More Nutrition Total Protein"
More Nutrition – Was ist dran an den More Supplements?
Was ist das More Nutrition Total Protein und was macht dieses Proteinpulver so gut?
More Nutrition ist mittlerweile eine der bekanntesten Marken für Sportnahrung in Deutschland. Seit dem Launch im Jahre 2018 hat Christian Wolf (Gründer von More Nutrition) eine Reihe an Nahrungsergänzungsmitteln mit einzigartigen Funktionen auf den Markt gebracht. Der Grund für die Spezialisierung vor allem im gesundheitlichen Bereich liegt an dem Wunsch, mit der Marke More mehr Transparenz und nach wissenschaftlichen Erkenntnissen Vorteile für Sportler und auch Nicht-Sportler im Alltag zu bieten. Das Total Protein ist neben dem Essentials unter den ersten Gründungsprodukten gewesen und bietet eine optimierte Unterstützung für den Muskelaufbau und der Proteinversorgung im Allgemeinen.
Was ist im Total Protein enthalten?
Das Total Protein bietet eine optimale Muskelversorgung durch einen Whey Protein + Casein Mix zu einem Verhältnis von Molkenproteinkonzentrat (enthält Sonnenblumenlecithin) 55,1% und Calciumkaseinat 36,7%. Der Grund dafür: Durch das Whey Protein wird die Muskelproteinbiosynthese kurzfristig angeregt, was vor allem rund um das Training (vorher, nachher) wichtig für die sportlichen Ziele und den Muskelaufbau ist. Der Caseinanteil sorgt für eine eher "antikatabole" Wirkung, sprich es hält den Aminosäurespiegel im Blut konstant und versorgt über einen längeren Zeitraum hinaus. Zusätzlich enthalten ist eine ausreichend hohe Menge an Laktase, um selbst mit Milch oder Quark zusammen genügend Laktase für die Verdauung hat.
Wie schmecken das More Nutrition Total Protein?
Ein Alleinstellungsmerkmal für das More Total Protein ist definitiv die Vielfalt der Geschmacksrichtungen und die Geschmacksrichtungen an sich! Das Total Protein gibt es in Schoko-Brownie, Vanille-Eiscreme, Milch mit Honig, Eiskaffee, Geschmacksneutral (und zugleich optimal für Backrezepte), Schoko-Kokos Riegel, Pistazie-Kokosnuss (Marzipan), Zimt-Zucker-Cookies, Schoko-Haselnuss, Schoko-Karamell, Bananenmilch, Keksteig und Mozartkugel (neu). Bei uns gibt es eine Auswahl der besten Geschmacksrichtungen, wo wir wissen, dass die Meinungen nicht zu sehr auseinandergehen!
Vorteile und Highlights des More Nutrition Total Protein Pulver:
Hochwertige Proteinquelle aus Whey und Casein
Laktase für die Verdauung enthalten
Sehr viele (und vor allem leckere) Geschmacksrichtungen
Durch das Casein hat das Total Proteine eine sehr cremige Konsistenz
Extrem hohe Qualitätsstandards durch regelmäßige Laberanalysen
Durch das neue EU-Recht (Health Claim Verordnung) ist es leider nicht mehr möglich, Sie genau und ausführlich über Produkte und deren Inhaltsstoffen zu informieren. Unser Team steht, soweit rechtlich erlaubt, für Sie telefonisch oder über E-Mail Kontakt jederzeit zur Verfügung.
Read, write and discuss reviews...
more
Customer evaluation for "More Nutrition Total Protein"
Write an evaluation
Evaluations will be activated after verification.
Supplier "More Nutrition"
×
Ratenrechner
zzgl. Versandkosten
Monatsraten
Ratenaufschlag insgesamt
Monatsrate
Effektiver Jahreszins %